Plastic Surgery Ohio
262 Neil Ave., Suite 430
614 827-6712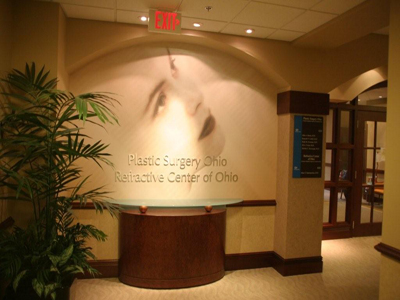 Plastic Surgery Ohio's office is located downtown Columbus, OH in The Eye Center of Columbus Building. Many of our patients take advantage of our location to enjoy the Arena District and Short North Arts District before or after their treatments. Refer to the Districts' website for events. The new aesthetic suite located on the fourth floor (Suite 410) offers a comfortable and discreet cosmetic clinical setting. Offerings include Botox, fillers(Restylane,Perlane,Voluma,Sculptra, & Juvederm ), chemical peels, microdermabrasion, eyelash enhancement(Latisse), laser skin resurfacing, and other physician prescribed skin care services and products.
Cosmetic surgery procedures are either performed in our office surgical suite or in our outpatient operating rooms designed specifically for cosmetic and plastic surgery procedures. These operating rooms are located on the fifth floor of the Eye Center.
Our facilities offer patients a convenient, centralized location where we combine our medical knowledge applying the latest non-invasive techniques with our surgical expertise in facial cosmetic procedures. Come in for a consultation and let us design a program that will help you look your best.